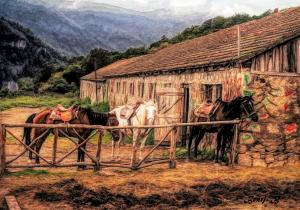 Since I have been back from Armenia, it has been a matter of deciding what to do to keep myself both physically and mentally active and engaged in some type of work. Retirement is definitely not for me.

The physical activity is not a problem, since I work out and cycle four or five days a week. The engagement in work has been another issue. It has been a drastic re-adjustment, over the past few months, learning to live at a much slower pace and not working ten hours a day.

After pondering the situation, coming up with and discarding various ideas, I have decided to fall back on what I've always loved, my photography. Those that know me have always seen me with a camera in my hand, more or less snap shooting whenever we get together. However, not very many have seen the artistic side of my work. Taking the picture is only the first step. The second step is that of the creating the finished product. Visualizing what you want the finished piece to look like and then creating it.

Over the past few months, I've been working on preparing a sales website which will exhibit my art work in various media formats. This includes high quality canvas prints, prints on archival paper, or wood, or metal. You can buy them either framed or unframed, matted or un-matted. In addition to wall hangings, there is a wide range of interesting merchandise, such as, greeting cards, totes, tee shirts, towels, spiral notebooks, coffee cups and much more. Once you decide on what you would like, you have the ability to purchase them online and receive them within a few days.

All of the products are manufactured using premium papers, canvas, fabrics, frames, and other materials which are designed to last a lifetime without fading or loss of color (unless you put it in the direct sun all day long).

Right now, there are only about 50 pieces of artwork on line, but I am adding new pieces on a regular basis. So keep coming back regularly to see new pieces, I know it will be worth your while. In addition, I will be setting up a mobile ap for Shopify, which will be ready soon.

Look at what I've done so far and obviously if there is anything that attracts your attention, buy it. There are always Birthdays, Anniversaries, Weddings, etc. for which you may need a gift.
It is said, "beauty is in the eye of the beholder", you are the beholder, so enjoy your visit and hopefully you will like something enough to buy it. That would make us both very happy! Again, keep in mind that this is an ongoing endeavor and every couple of days you will see new artwork on the website.

Finally, I would ask that you obviously, share this email and the website to spread the word. It becomes rewarding when someone else appreciates your work and buys a piece. The success of this type of business is with large numbers of people surfing your website, who are potential buyers, and a lot of that comes from word of mouth.

The website is Bearj B Photo Art https://www.bearjb.pixels.com. My email is babinc@verizon.net.